​
Location:

Valletta
Date
:
Event Details
: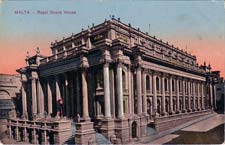 Opera is an art form in which singers and musicians perform a dramatic work combining text (called a libretto) and musical score, usually in a theatrical setting. Opera incorporates many of the elements of spoken theatre, such as acting, scenery, and costumes and sometimes includes dance. The performance is typically given in an opera house, accompanied by an orchestra or smaller musical ensemble.
Note: This is an invented sample event to demonstrate the Event Management!
Click on an event heading to view more details about the event. All events are invented samples which rotate every month. If you are interested to implement this Event Management tool, please contact us with your requirements.
| | | | | | | |
| --- | --- | --- | --- | --- | --- | --- |
| Monday | Tuesday | Wednesday | Thursday | Friday | Saturday | Sunday |
| 1 | 2 | 3 | 4 | 5 | 6 | 7 |
| 8 | 9 | 10 | 11 | 12 | 13 | 14 |
| 15 | 16 | 17 | 18 | 19 | 20 | 21 |
| 22 | 23 | 24 | 25 | 26 | 27 | 28 |
| 29 | 30 | 31 | | | | |