As part of your web or marketing strategy, NMS designs can take care of all your advertising needs from the preparation of the adverts or banners to the setting up of an offline and online advertising campaign.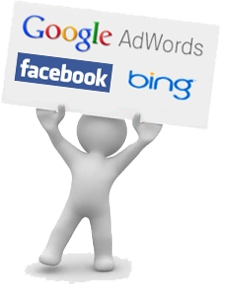 If you would like to promote your new website or to advertise your products / services, then we at NMS can design all the necessary adverts, artwork or banners as well as prepare a customised advertising campaign. The graphic designer can either create the campaign based on the existing look and feel of your business or he can create new concepts to clearly portrait the message of your product. In addition to the offline media (such as newspapers, magazines, billboards, posters and yellow pages), we also cater for online media including advertising on:
Google Search Results
Google Partners
Facebook Malta (or any other territory)
bing Search Results
Local popular websites (news, weather etc..)
Our services include the monitoring and reporting of the progress and effectiveness of the online campaigns. Together with the client, we configure each campaign to target specific territory, age-group and daily budget so as to maximise the effectiveness of the campaign. In this business, it is standard practise that online campaigns are reviewed and fine-tuned regularly to ensure the best keywords and message are in line with the business objectives. This is something we take care of as well through the monitoring and reporting plan which we agree with the client.